BADDIES AND BOSSES TAKE CANCUN
JULY 25 - 28, 2019
AS SEEN IN:
YOU DESERVE TO UNWIND...
Whether it's the stress of your 9-5, your side hustle or full-time entrepreneurship, Baddies & Bosses deserve a break! Baddies & Bosses Take Cancun is a networking retreat for ambitious female professionals.
We're bringing together baddies and bosses across the country for an unforgettable experience-- where we will celebrate, collaborate, slay, and socialize.
Indulge in an all-inclusive baddie boss experience, complete with networking, a group excursion, and relaxation. Each guest will leave with a renewed sense of self-confidence, a girl gang to support them on their journey, and feeling recharged and ready to take their career and personal brands to the next level.
Our retreat is hosted at a resort where your needs are met by an exceptional staff. With personalized check-in and check-out concierge services, each guest room comes complete with a living room, outdoor jacuzzi tub on balcony, pillow menu, and fine bath amenities.
With 24-hour room service and a variety of restaurants to choose from, your options are endless. Eat and drink from sun up to sun down if that's what you prefer! As preferred club guests, you will have access to upgraded mini bar and room service menu as well as preferred club pool, restaurants, and lounge.
Our resort is just 12 miles from the airport. Sit back, relax and let us take the planning of transportation off your plate! We will be patiently waiting on your arrival.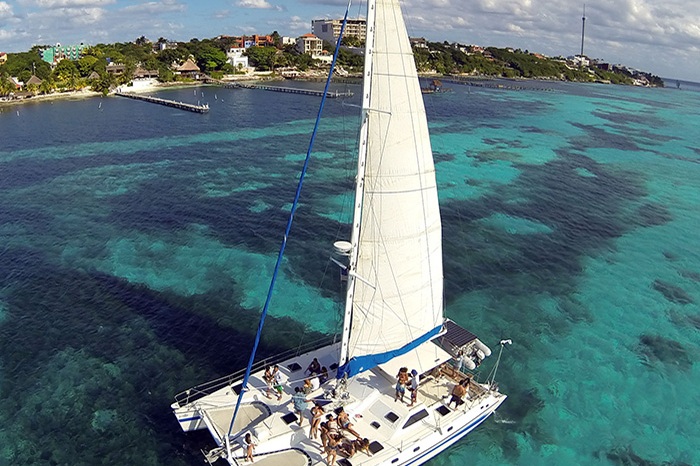 BADDIES & BOSSES BOAT PARTY
Enjoy a half day, boating through the Caribbean Sea aboard our 50 ft Catamaran. Open bar and snorkel equipment included.
HIGHLIGHTS:
You'll enjoy all-inclusive luxury accommodations at the Now Jade Riviera in Cancun, Mexico for 4 days and 3 nights.
Package does not include flight. We recommend purchasing your flight by May 2019.
Airport code: CUN
Check-in: 3:00pm
Check-out: 12:00pm

If you arrive early or check out late, you can secure your bags in the lobby and enjoy the resort.

THE ITINERARY*:
Thursday: MIX + Mingle
Upon your arrival, enjoy welcome cocktails and explore the resort! Later in the evening, join us for a night of networking at the "Baddie Boss Mixer" followed by our Welcome Dinner.
Friday: Namaslay BEFORE THE PART-AY!
After breakfast, wake up to wellness! Indulge in morning meditation, stretching, and breathing exercises with @SentFromDevyn. As a therapist, yoga instructor, and mental health awareness advocate, Devyn knows a thing or two about developing healthy (and inexpensive) ways to cope with the stressors that are guaranteed to happen in our personal and professional lives. She will put us in the right mindset to authentically connect as Baddie & Bosses and enjoy our time together throughout the weekend.

In the afternoon, prepare yourself for the ultimate Baddie Boss Boat Party! From bottomless cocktails, to the baddie boss photo shoot this is one excursion you won't want to miss (themed attire details to follow).

Saturday: Squad Goals
Today is all about YOU. Take the full day to relax, recharge, and soak up the sun. Meet up with the girl gang you have formed over the past couple days and chill by the pool or go out for an adventure. Either way, make the most of your last full day in Cancun.
In the evening, we will meet for a chic final farewell dinner, full of toasts and affirmations; before we hit a night on the town!

Sunday: Adios, Sis!
It's so hard, to say goodbye! As our trip comes to an end, join us for a weekend wrap up and farewell toast!
*(Full itinerary to follow, subject to change)

PACKAGE COST & PAYMENT SCHEDULE:
Payment plan available.
Double $899 / Triple $849 - EARLY BIRD PRICING! Downpayment made on/or before March 31, 2019
Double $999 / Triple $949 - downpayment made after March 31, 2019
(Space is limited! All prices are per person. Must RSVP with your group, at booking)
Payment schedule:
$150 deposit due at time of booking
Payment #2 is due March 18, 2019
Payment #3 is due April 18, 2019
Final balance is due May 18, 2019
Your reservation also includes a mystery baddie boss bag -- complete with a t-shirt, samples and goodies from our sponsors.
Check out last year's sponsors below: